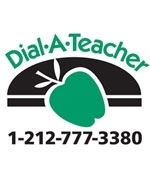 Homework Help - UFT Dial-A-Teacher
Dial-A-Teacher

The UFT sponsors a homework help program for elementary and middle school students called Dial-A-Teacher. Classroom teachers answer homework questions at 212-777-3380, Monday through Thursday, from 4 to 7 p.m. during the school year. They can also answer parents' questions and give advice on how you can help your child at home. The staff speaks 12 languages: Arabic, Bengali, Chinese (Mandarin, Cantonese and Fukanese), English, French, Greek, Haitian-Creole, Hebrew, Italian, Korean, Russian, Slovak and Spanish.

The Dial-A-Teacher program began in January of 1980. It was a pilot program in 17 schools in 8 districts. Five teachers were hired to field these questions with one teacher proficient in Spanish. Students throughout the city quickly began to use the program to get help with homework problems that stumped them. By 1986, the program expanded to include all elementary schools in the city through funding by the NYC City Council. The UFT provided a large space where the newly hired staff of 45 teachers could work. Hundreds of texts and reference materials were bought and Dial-A-Teacher was now a world-class source of help for all the elementary students in the city.

As word spread to students that there was a telephone number that they could call to get free help with homework, the number of calls climbed steadily. Students in middle school and high school who were using the Dial-A-Teacher program since the third grade continued to seek this help. Dial-A-Teacher began hiring experts in advanced math and science to field these calls from older students.